This weekend course, based out of Ucluelet, BC, is designed to the average introduce outdoor enthusiast to digital video content creation. The focus will be on storytelling with educational content and using the equipment we have readily available to us; all you need is a smartphone and a computer! Participants will gain hands on experience writing stories for video, setting up a shot and building a scene (cinematography basics). Learn tips and tricks for awesome looking video, no professional equipment required. Start editing, publishing and sharing your own content.
---
Course Registration is $240 per person, and includes lunch on Saturday and Sunday.
---
Friday (7:00 pm – 8:30 pm)
• Introductory presentation on the basics of storytelling and developing a video concept
• Plan student video projects
Saturday (9:00 am – 8:30 pm, with breaks)
• Get hands on with technical skills for creating quality shots
• Go into the field to do some shooting
• Video editing tutorial and time to work on student projects
• Evening feature film screening
Sunday (9:00 am – 1:00 pm)
• Video project completion
• Open screening of student projects, course wrap-up
---
About the instructor:
Stefania Gorgopa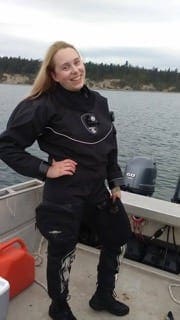 is the Communications Director with Raincoast Education Society. Her formal film education began with the inaugural Scientific Filmmaking course offered at the Bamfield Marine Science Center in 2009. Since then she has made several short films about scientific research, winning second place at the University of Victoria's Research Reels competition in 2017. She has trained extensively in the areas of science communication and journalism while pursuing her Masters of Science in Environmental Studies.
---
Check out this film by course instructor Stefania Gorgopa, an example of what type of films students will be making (Note: this course does not involve SCUBA diving)
---