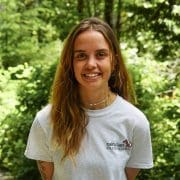 Amanda Ketch
Educational Program Assistant
Raincoast Education Society
Amanda grew up playing and exploring in Kelowna, BC on the traditional territory of the Syilx First Nation. In her younger years she came on almost annual family camping trips to the island, always eager to learn more about the diverse life of the island's beaches and forests!
She has just finished a Bachelor's degree in Geography and Earth Science from the University of Victoria where she had the chance to start learning about the natural and human processes that shape life on the island. She wrote an honours thesis on the role of relationship to place in driving stewardship of local watersheds and is particularly interested in the ways in which people interact with the ecosystems that surround them.
In the past she has worked at a summer camp, as a cave guide and as a zipline guide among other things and always enjoys opportunities to have fun with new people and maybe even share a fun fact or two.
Living on the island also allowed her countless opportunities to learn about the incredible terrestrial and marine ecosystems of this area. In her free time, she can usually be found outside, surfing, hiking, climbing, canoeing, or just soaking in the sun. Amanda is stoked to be joining Raincoast Education Society for a summer of fun in the sun.