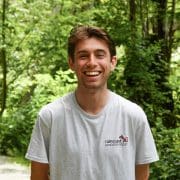 Ben O'Flynn
Educational Program Assistant
Raincoast Education Society
The RES welcomes intern Ben O'Flynn.  Ben (he/him/his) recently completed his undergraduate degree from the University of Victoria where he studied human geography, with a passion for learning about the environment and community relationships. Now, he is excited to begin working towards his career goals that include advocating for a sustainable future and combining research of the natural world with education of the ever-wonderful youth.
His parents instilled a love of the world by supporting traveling at a young age and he discovered a love for working with children while working during his university degree. Outside of work and school, he enjoys meals with friends, walks with dogs, and dancing with music in his personal time. He also loves basketball (as well as most sports) and all things outdoors.
Ben's goals while working with children at Raincoast Education Society are to ensure campers feel comfortable, included, and (hopefully) laugh out loud at least once a day – he always wants to try to improve someone's day when working with them! He is incredibly excited to learn from the great minds at the Raincoast team about all things – whether it regards their research, public outreach, or educational experiences.