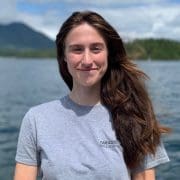 Julia Preston
Outreach Program Coordinator
Raincoast Education Society
Julia Preston is a recent graduate from the University of Victoria where she completed a Bachelor of Science in Biology and Psychology.
Julia grew up in Victoria, BC, on the traditional territory of the Lekwungen peoples, and spent much of her childhood exploring the nearby Gulf Islands such as Gabriola and Mudge Island. These special places provided a strong foundation for her interest in nature and love for Pacific Northwest flora. Julia's main focus throughout her degree was neuropsychology and has recently taken a special interest in the developmental psychology of children; she hopes to pursue this interest by becoming an elementary school teacher. In her free time, Julia enjoys practicing yoga, taking photos, hiking, and surfing.
Julia is excited to be a Raincoast Student Intern to contribute to community education and appreciation for the outdoors, as well as to deepen her own knowledge of the local ecology!