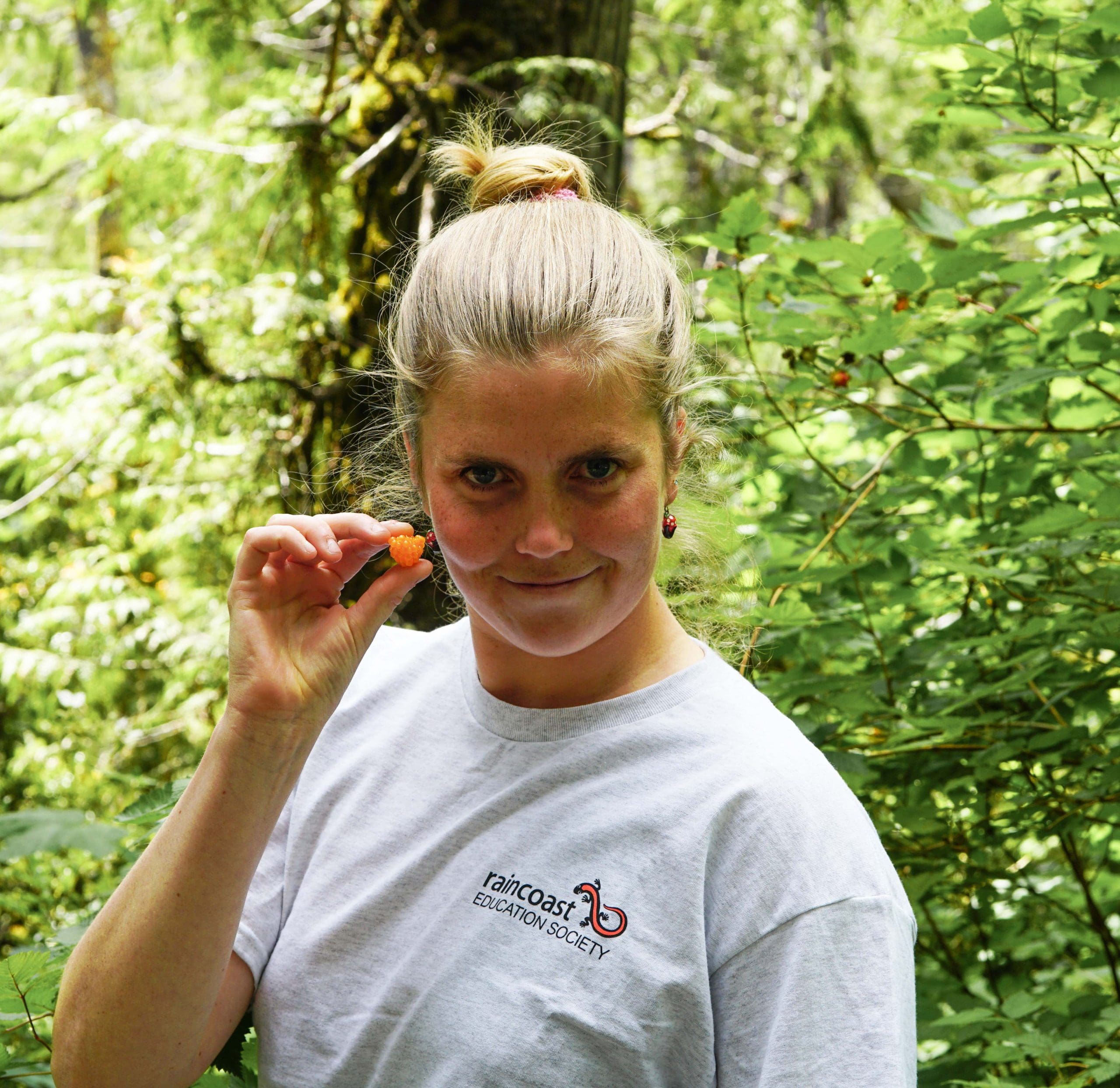 Kira de Leeuw
Ucluelet Field School Coordinator
Raincoast Education Society
Growing up by the ocean in White Rock, B.C., on the traditional territory of the Semiahmoo First Nation, sparked Kira's love for exploring coastal ecosystems. Her parents' adventurous spirit rubbed off on her at an early age, as they explored much of B.C. and Canada during family camping trips. Kira has very fond memories of visiting Tofino and Ucluelet as a child; the vast, ocean and intertidal zone full of squishy and squirmy creatures always left her in awe. After graduating high school Kira went on to complete her undergrad at Quest University Canada in Squamish, BC, where she studied life sciences and education. Alongside her academics, she played on the varsity women's soccer team and jumped on every opportunity to explore the diverse and beautiful wilderness of BC through hiking, biking, skiing and surfing. After Quest, Kira worked as an environmental educator and program developer at the Discovery Passage Aquarium and Explorer Lab, and the Surrey Nature Centre. Before joining Raincoast Education Society, Kira lived in Nelson, BC, where she completed her Bachelor of Education through UBC's West Kootenay Rural Teacher Education Program. 
The past couple of years have landed Kira in many places and she is now beyond stoked to settle down and call Ucluelet her home. She is excited to combine her experiences, knowledge and passion for B.C.'s lush ecosystems as the Ucluelet Field School Coordinator. Kira is passionate about facilitating outdoor programs that encourage curiosity, a better understanding of our natural surroundings and inspire environmental stewardship. She is grateful to have the opportunity to explore the traditional territory of the Nuu-chah-nulth First Nations with the students and teachers of Ucluelet Elementary School. 
After a short but sweet stint as a Teacher on Call in Ucluelet and Tofino, Kira is now settling into a new role as the Learning Facilitator for the Yuułuʔiłʔatḥ Government. She is very excited and grateful to take on this role, to continue to work with students and staff at Ucluelet Elementary School, and get to know Yuułuʔiłʔatḥ Government team members and community members.
Contact Kira at: Kiradeleeuw@gmail.con