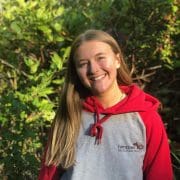 Sarah Nolin
Program Assistant
Raincoast Education Society
Sarah is currently entering her fourth year at the University of British Columbia as an Honours candidate in History with International Relations. Sarah has developed a keen interest in indigenous, environmental, and colonial historical studies and hopes to pursue a law degree following her undergrad.
Originally from Calgary, AB, Sarah grew up as a competitive figure skater but has since traded her skates for skis, surfboards, and skateboards. During breaks from her studies, Sarah has completed two tree planting seasons, backpacked through Australia, and worked as an Au Pair.
Sarah now calls Ucluelet her temporary home, where she enjoys surfing and has also begun training for her first marathon. She is ecstatic to have the opportunity to work with Raincoast, as she cares deeply for environmental conservation and wants to help grow intersectional accessibility and education.