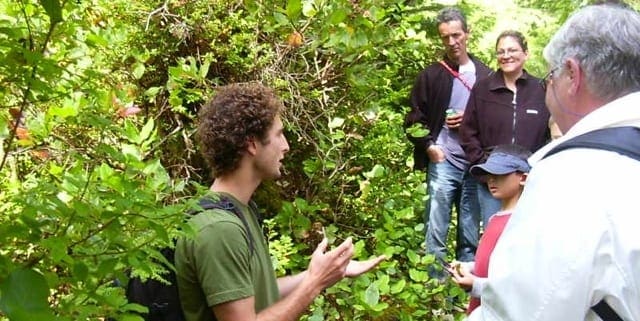 Join us every Sunday and Wednesday this summer for a free rainforest walk!
Cox Bay Beach (meet on beach at end of public beach access trail across from Visitors Centre)
Coastal temperate rainforests are one of the world's rarest ecosystems, comprising less than 0.1% of the earth's surface. British Columbia is home to more than 25% of the earth's remaining old-growth temperate rainforests, with Clayoquot Sound containing the largest tracts of ancient rainforest on Vancouver Island. Our guided rainforest walks will provide you with a unique understanding of this globally significant ecosystem, from the impressive diversity of flora and fauna to the interconnections with the marine environment to the rich environmental and cultural history that defines the landscape to this day. The ancient rainforests of Clayoquot Sound provide a rare glimpse into the evolutionary potential of this magnificent coastal landscape. Our expert guides draw on both scientific and cultural perspectives to provide you with a strong understanding of what makes these rainforests so significant.
If tides permit, we will also touch on the intertidal ecosystem. Tide pools exist in the rocky intertidal zone (intertidal: the area between the highest high tide and the lowest low tide). Our coast is subject to two high-tides and two low-tides everyday (~6 hrs between each change); thus, half the time the rocky intertidal zone is underwater and half the time it is exposed to the air. Not only do the hearty marine creatures that inhabit this rugged environment have to deal with fierce waves, cold water and marine predation when the tide is in, they also have to adapt to being out of the water for extended periods and avoid terrestrial predation when the tide is out.
---
---