This weekend field course, based out of the Ucluelet Community Centre, will introduce participants to the world of west coast seaweeds. Topics to be covered in this year's course include an introduction to seaweeds (What are they? What is their role in coastal ecology?), biodiversity of west coast seaweeds, essentials of collecting and identifying seaweeds, seaweed foraging, the relationship between seaweeds and people, pressing and preserving seaweeds, and more!
We are excited to welcome back course instructors Dr. Bridgette Clarkston and Dr. Katy Hind who will come to Ucluelet to share their seaweed knowledge and expertise with us.
Course registration is $250 per person, and includes lunch on Saturday and Sunday.
---
Friday, June 17 (7:00 pm – 8:30 pm)
Presentation – overview of west coast seaweeds, different seaweed groups, role of seaweeds in coastal marine ecosystems.
Saturday, June 18th (8:30 am – 8:30 pm, with breaks) Low tide is at 10:49 am (0.2 feet / 0.7 m) 
Field trip to explore seaweeds on Tofino's rocky coast and practice naturalist skills, including fundamentals of seaweed identification.
Collection of seaweeds at field site.
Workshop to practice using dichotomous keys, field guides and online databases to identify unknown specimens
Create your own scientific and artistic seaweed presses.
Cynaoptype,  Seaweed as art: create your own beautiful botanical blueprint using the traditional method of cyanotype printing.

 

Presentation – seaweeds and people: from traditional uses to modern foraging, and everything in between.
Sunday, June 19th (8:30 am – 12:00 pm)  Low tide is at 11:40 am (0.4 feet / 1.3 m) 
Putting it all together – field trip to identify seaweeds and their communities in nature, including opportunities to share what you've learned with the group.
Course wrap-up.
---
About the instructors: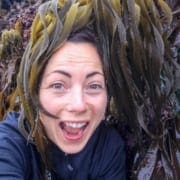 Dr. Bridgette Clarkston loves seaweeds and thinks you should too. Bridgette is an Associate Professor of Teaching at the University of British Columbia and co-author of the field guide Pacific Seaweeds: A Guide to Common Seaweeds of the West Coast (Harbour Publishing). A delightful moment in a lifetime spent appreciating BC's seaweeds was discovering a new genus of beautiful red seaweeds and naming it after the Salish Sea (Salishia). A Vancouver Island settler, Bridgette was born and raised on the unceded traditional territory of the K'ómoks First Nation, the traditional keepers of this land. Learn more about Bridgette on the UBC Botany website here.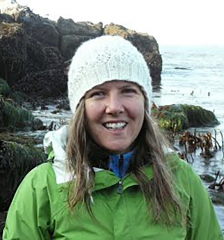 Dr. Katy Hind
 is a seaweed biologist and teaching professor at the University of New Brunswick. She has taught seaweed biodiversity courses at the Bamfield Marine Sciences Centre and the University of Victoria. Katy's research focuses on understanding the ecology, biodiversity and communities of marine calcifying algae (coralline algae) around the world.  She has described over 10 new species of coralline algae!  To find out more about Katy's teaching and research visit 
www.katyhind.com
.
---
Check out photos of the previous years: