Tofino Shorebird Festival
The Tofino Shorebird Festival celebrates the spring migration of shorebirds with educational birding opportunities throughout the area. This is a great opportunity to experience the largest wildlife migration in the region, learn about these impressive birds, and understand why this area is one of the very best places in western Canada for bird watching.
Birding on the Mudflats
Monday through Friday, May 1 – 5
On the birding platform at Hotel Zed
FREE Drop-by Event
Monday May 1, 10am-1pm / Tuesday May 2, 10am -1pm / Wednesday May 3, 10am -1pm / Thursday May 4, 10am -1pm / Friday May 5, 10am -1pm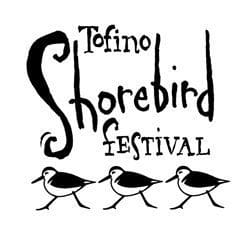 Find fellow birders, spotting scopes and bird guide Mark Maftei from the RES 
This is the best opportunity to spend some time down on the Tofino mudflats to view flocks of shorebirds foraging and resting during their annual migration north. The mudflats at this location offer some of the best and most accessible high-quality shorebird habitat in Tofino. Bird viewing on the mudflats is tide relevant – the rising tide when birds are pushed up towards the upper mudflats for a better view.  This is a great event for both new and experienced birders, as well as anyone interested in learning more about the Tofino Mudflats Wildlife Management Area.
Bring your binoculars or spotting scope, or else we will have a couple to share. No dogs please.
---

Shorebird Soiree Fundraiser
Thursday, April 27th  5 – 9pm
Join us this for our annual Shorebird Soiree fundraiser at Roar & Hotel Zed!  This event will be a magical evening of good food, good people, shorebirds flying in the disco room, a nod to the much missed lantern festival, and music played by Hayden Roth. The evening will highlight our years of shorebird research and educational initiatives.
We have a lineup of incredible items for our silent auction – thank you to our amazing business community and the release of our first ever mushroom long-sleeve t-shirts and stickers!
$25 per ticket
(Purchasing your ticket in advance automatically enters your name in the door prize draw for a 2-night stay at Hotel Zed.)
There will be lots of great food plus drinks for purchase and a Buck an Oyster Shuck!
friends + silent auction + food + drink = fun!
Purchase tickets here!
---
Birds of the West Coast: A Raincoast Institute Course
Friday May 5, 6 & 7
Course registration is $330 per person, and includes boat trip on Sunday.
This event will be split between both towns in both sounds; Ucluelet/Barkley Sound & Tofino/Clayoquot Sound
In this weekend workshop (Friday evening until Sunday afternoon), participants will be introduced to the general ecology and biology of birds with an emphasis on commonly encountered species. This course is specifically scheduled to overlap with the peak shorebird migration as well as the presence of large numbers of other migrating species. This course is designed as a way to learn more about birds in general rather than how to ID specific species. Although participants will certainly learn how to ID common species, extensive birding experience is NOT required.
For itinerary, instructor bio & to register please visit here.
---
Whimbrels, Sandpipers, Dunlin and more!
Every year from late April through May, flocks of sandpipers, plovers, whimbrels, and many other shorebirds pass through the Tofino area. Thousands stop here to feed and rest as they make their impressive journey from South and Central America northward to their Arctic breeding grounds.
The protected forests, expansive mudflats, long sandy beaches, and rocky shorelines of the region create the right combination of habitats to draw over 40 species of shorebirds to the area, including the largest migratory concentrations of whimbrels anywhere in British Columbia, and impressive flocks of western sandpipers, dunlin and more.
Thank You to our Festival Partners
A huge thank you to our 2022 festival partners, in alphabetical order:
Cap N' Hook • Gaia Grocery • Hotel Zed • Jamie's Whaling Station • Long Beach Lodge • Middle Beach Lodge • Nova Harvest • Pioneer Boat Works • Reservas Tequila • Rhino Catering • Sacred Stone • Tofino Coffee Co. • Tofino Distillery • Tofino Time • Tofitian • Ucluelet Brewing Co.
Tofino Shorebird Festival Photo Gallery
Some photos from previous years!
Need help?
If you have any questions about our courses, our events, or just us in general – we're here to help!