Life At Night, Speakers Series 2023
The Magical World of Bats
Like bats or not, you will after hearing and seeing for yourself what Dr. Tuttle has learned about these mysterious but magical animals. As you'll see bats come in an amazing variety, as cute as any panda or as strange as any dinosaur, ranging from giant flying foxes with up to six-foot wingspans to tiny bumblebee bats that weigh less than a penny. Highly sophisticated, they maintain long-term social relationships similar to humans, sharing food and information, taking turns babysitting and even adopting orphans. They provide billions of dollars annually in crop protection without which we would be threatened with more deadly pesticides and pay higher prices for products from cotton to sugar, rice, chocolate and macadamia nuts. And that's not even to mention their roles as essential pollinators and seed dispersers from deserts to rain forests, all of which Dr. Tuttle will illustrate through his personal experiences and stunning photography.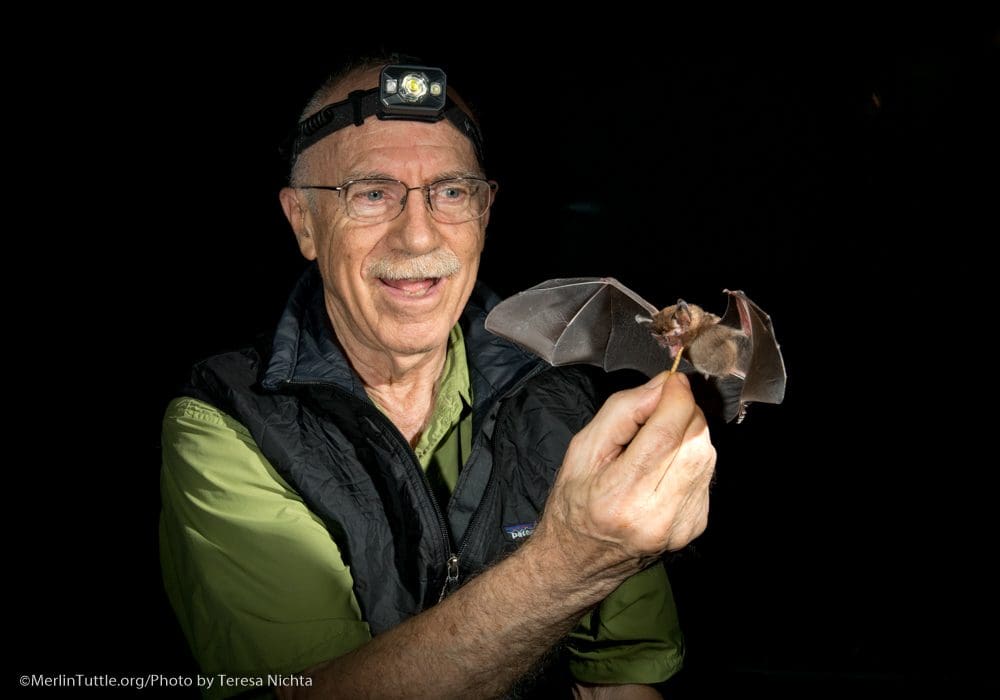 About our speaker: Dr. Merlin Tuttle is a resident of Austin, Texas. He is an internationally recognized leader in research, conservation and photography of bats. His photos and research have been featured in five National Geographic articles, the journal Science, and many other leading publications. He founded Merlin Tuttle's Bat Conservation (MTBC) where he is currently and solely active. Merlin also founded and led Bat Conservation International for nearly 30 years before leaving in 2009.
Through MTBC Dr. Tuttle continues to provide the world's finest bat photo gallery and the most up-to-date responses to grossly exaggerated disease speculation about bats. This is also the only place to access his more than 60 years of unique expertise or support his work. At age 80, he is still passionately teaching the world to understand and appreciate the vital roles of bats. Since founding MTBC, he has continued his worldwide efforts from Brunei, Bulgaria, and Cambodia, to Taiwan, and Thailand, and from Brazil, Chile, and the Vatican, to South Africa.
His first book, America's Neighborhood Bats, published in 1988, played a key role putting unfounded fear in perspective and in outlawing the then widespread poisoning of American bats living in buildings. His 2022 publication, The Bat House Guide, is the most comprehensive bat house book yet. His
inspiring autobiography, The Secret Lives of Bats: My Adventures with the World's Most Misunderstood Mammals, was published in 2018, with top reviews, including from The Wall Street Journal, The New Yorker and National Geographic. And in 2019, he served as science editor and sole photographer for the Smithsonian book, BATS: An illustrated guide to all species. He also serves as a Research Fellow in the Department of Integrative Biology at the University of Texas at Austin and still takes approximately a thousand new photos annually.
To learn more and support his work visit MerlinTuttle.org.